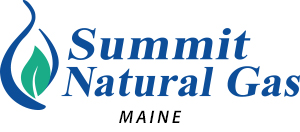 Summit Begins Offering Customers Renewable Choice
Customers can now further reduce their carbon footprint with renewable natural gas attributes
November 1st, 2019
YARMOUTH, ME – Starting today, Summit Natural Gas of Maine (Summit) customers now have a renewable choice, thanks to the company's voluntary renewable attribute* program that was recently approved by the Maine Public Utilities Commission (MPUC).
"Our renewable program is the next step in building a sustainable energy future in Maine," said Summit's President and CEO Kurt Adams.
Since coming to Maine in 2013, Summit has been able to reduce carbon emissions by an estimated 69,000 metric tons a year through conversions from dirtier fuel sources like oil to cleaner burning natural gas and more energy efficiency appliances. That's like taking 15,000 cars off the road forever. Now, with its renewable program, the company is taking its commitment to reducing green-house gas emissions even further.
"We are excited to be offering our customers a renewable option that allows them to further reduce their carbon footprint through the purchase of renewable attributes," said Adams. "In addition to our voluntary customer option, as a company, we are matching five percent of residential heating demand this year with the purchase of renewable attributes at no cost to customers. This will help jumpstart the renewable biofuels market and spur investment in new technologies that mitigate one cause of climate change."
Summit's voluntary program received approval from the MPUC on October 28, 2019. The process leading to approval of the program involved the productive engagement of both the Maine Office of the Public Advocate and the MPUC's staff.
Customers enrolling in the voluntary program may elect to match 10 to 100 percent of their average annual usage with renewable attributes derived from landfill waste. The quantity of renewable attributes, and a flat monthly fee, will be added and shown on enrolled customers' bills. The flat rate monthly fee is based on the percentage selection made at the time of sign-up. Customers can enroll in the program by calling 1.800.909.7642 or visiting summitnaturalgasmaine.com/renewablenaturalgas. There is no cost to any customer who does not choose to participate in this program.
The attributes are derived from biomethane. Biomethane is derived from the decomposition of naturally occurring organic waste from landfills, waste treatment plants, industrial sites and farms. Unless captured and reused, much of the emissions created from the organic waste at these facilities would be released into the atmosphere.
*Our renewable attributes are derived from biomethane. When biomethane is produced, two products are created simultaneously, methane and renewable attributes. Methane is the physical, tangible commodity that is used in homes and businesses. Renewable attributes are the intangible benefits associated with the creation of methane from renewable materials. Renewable attributes from biomethane are similar to Renewable Energy Certificates (RECs), the intangible benefits created by the generation of electricity using renewable sources (solar, wind, hydro, etc.). Currently, the source of the renewable attributes is not in Maine, and Summit is not purchasing the methane itself. The company is simply purchasing the attributes and matching them with the methane that we normally deliver to our customers here in Maine.