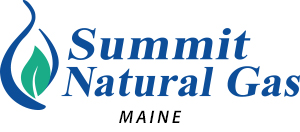 Summit Natural Gas of Maine Connects First Customers in West Falmouth Expansion
Summit is now focused on building out the system to residential customers throughout the community.
October 25, 2019
WEST FALMOUTH, ME – Today, Summit Natural Gas of Maine (Summit) turned on natural gas service to parts of Cumberland and Falmouth along Main Street, Winn Road, and Gray Road, marking the completion of the company's summer expansion project. Summit will now focus on installing additional pipe to residential areas in the community where customers have signed up for gas service.
"Not only is natural gas affordable and cleaner burning than other fuel alternatives, but it's also always there when you need it, which is why we are so excited to be expanding access to natural gas to more residents and commercial customers in the west Falmouth area," said Matt Jacobson, Summit's Director of Marketing and Sales. "This expansion project was a true partnership between town officials, local businesses, and families throughout the community. We look forward to bringing natural gas access to residential and commercial customers in the Cumberland, Falmouth and Yarmouth area for years to come and continuing to partner with the town to foster economic growth and development."
Since breaking ground on the project this spring, Summit has installed more than 28,000 feet of pipe and has invested over $4 million. To complete the project, Summit worked closely with the towns of Falmouth and Cumberland, and the Maine Department of Transportation.
Now that the main pipeline expanding down Winn Road and through west Falmouth has been installed, the company is focused on installing additional pipe down residential roads to bring natural gas access to families and businesses throughout the community. To help lower the cost of converting to natural gas, Summit and the Efficiency Maine Trust offer rebates and incentives of up to $3,550 for residential homes and up to $6,800 for commercial buildings.
"When we partnered with Summit Utilities in 2014, we anticipated that this gas expansion would encourage economic development throughout town," said Falmouth Town Manager Nathan Poore. "Tomorrow, Hannaford joins a growing group of local businesses using this alternative energy source. As the Gray Road main line expansion nears completion, we hope more commercial and residential customers will take advantage of natural gas."
Since coming to Maine six years ago, the company has invested more than $340 million to build more than 290 miles of distribution pipe throughout the state. Summit provides natural gas to thousands of residents and most of the schools, colleges, hospitals and municipal buildings in its service areas.
If you are interested in converting to natural gas, please call Summit at 1-800-909-7642 or visit https://summitnaturalgasmaine.com/ .