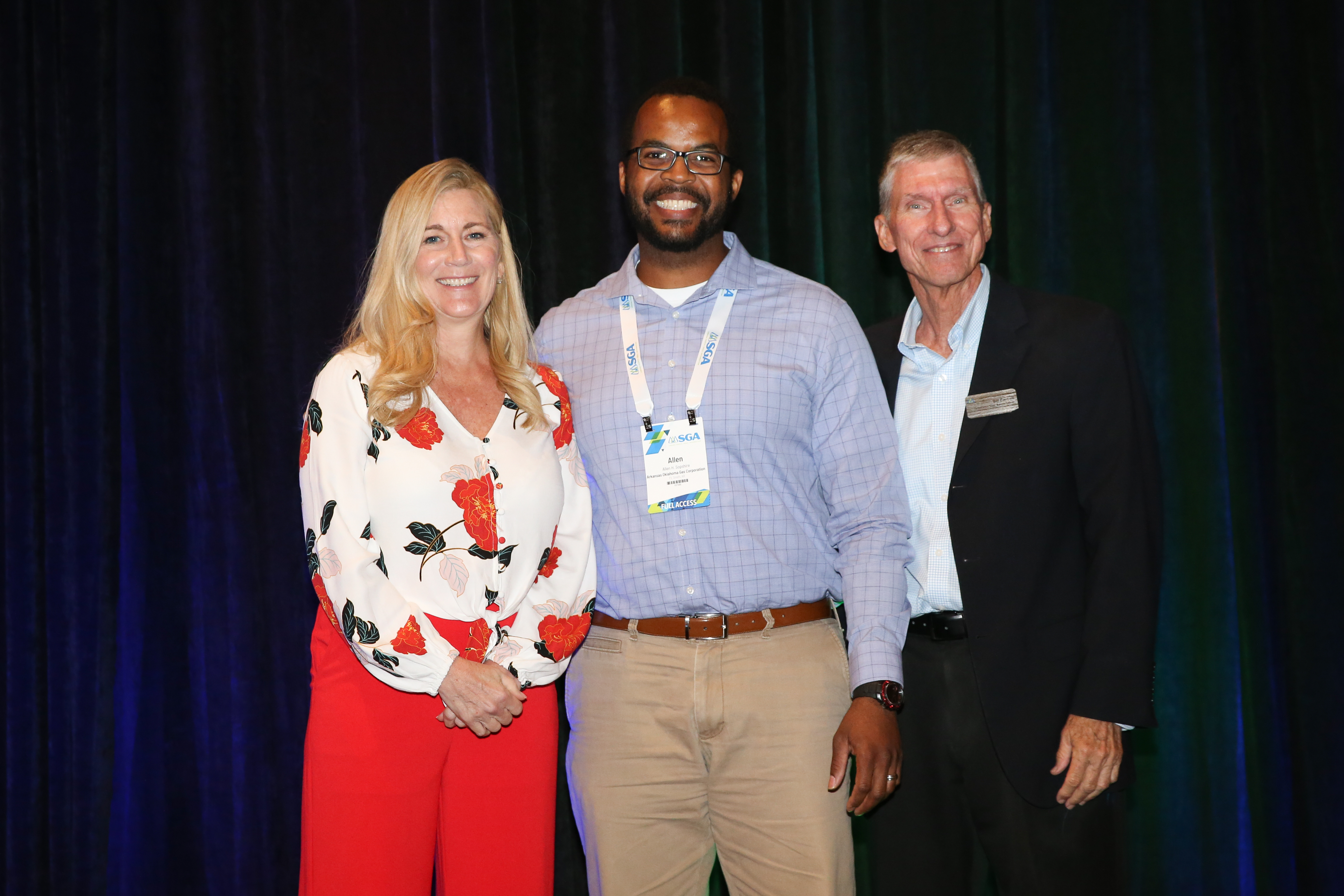 Allen Sopshire (Center) of Summit Utilities accepts the award from The Southern Gas association (SGA) for Engineering Innovations for its Work Order Field Application (WOFA) program.
Summit Utilities Inc. is the recipient of the Southern Gas Association's 2019 Engineering Innovation Award for the company's development of the Work Order Field Application (WOFA). The WOFA is a mobile platform used to access and record information about the company's pipeline system, allowing it to track system components from "dock" to "ditch." The information collected has helped Summit improve purchasing, gain operational effectiveness, garner real-time insights from construction projects.
The Southern Gas Association (SGA) gives its annual Engineering Innovation award to engineering professionals or work groups who have developed and implemented innovative processes or programs.
"Member companies such as Summit Utilities lead the way in continuing innovation and are a big reason why this industry continues to improve its collective safety record," said Bill Cantrell, Chief Executive Officer of SGA.
Summit Utilities, Inc. (Summit) owns natural gas distribution and transmission subsidiaries that operate in Arkansas, Colorado, Maine, Missouri and Oklahoma.
Our business began in 1997, when two entrepreneurially minded executives recognized a need to deliver a more cost-effective and environmentally sustainable fuel option to residences and businesses in rural areas where other utilities could not or would not serve with natural gas. While the company started in Colorado with the founding of Colorado Natural Gas, Inc., it has since grown to provide safe, clean and affordable natural gas to businesses and residents in five states through Summit Natural Gas of Missouri, Inc., Summit Natural Gas of Maine, Inc. and Arkansas Oklahoma Gas Corporation.
Each of Summit's subsidiaries constructs and installs natural gas distribution systems with the goal of supporting economic development by providing clean-burning, safe and reliable natural gas to residential and commercial customers through exceptional customer service and commitment to community.
Overall, Summit entities serve approximately 100,000 customers and operate more than 5,400 miles of pipeline in Arkansas, Colorado, Maine, Missouri and Oklahoma.
Click here to learn more about us!