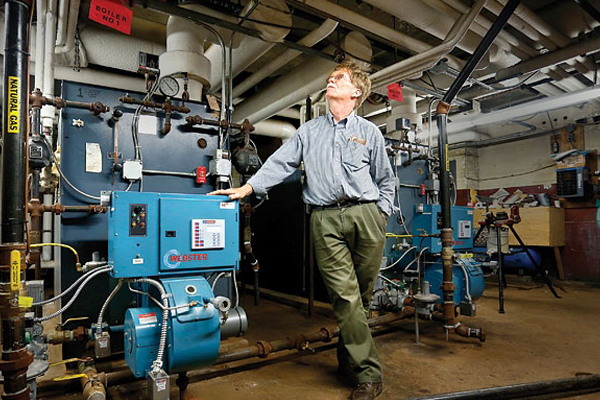 Summit business customers featured in Mainebiz
Will natural gas alleviate Maine's energy woes?
by LORI VALIGRA
September 2, 2013
When natural gas from a pipeline starts flowing into UPM Madison's heating furnaces late this year, it will be a fuel conversion several decades in the making and a move General Manager Russ Drechsel expects will boost the paper mill's competitiveness.
"We first looked at this 30 years ago, and today it has become a reality," says Drechsel of the switch from oil to compressed to liquefied and now to pipeline natural gas. While he would not reveal the savings the magazine-grade paper mill expects from the changeover, he says even a savings of 10% would have been more than enough to make the investment. But by his estimates, the mill could see a much better return than that. Drechsel says natural gas will cost about one-third less than oil on a per ton basis. Still, he's opted for a dual-burner system, with the memories of oil price fluctuations and natural gas shortages last winter still fresh in his mind.
"We'll keep our capacity to burn oil so if the market does change and fuel oil becomes less expensive, we could burn it. So we're not walking totally away from oil," he says.
Drechsel's story is playing out in businesses and homes alike through Maine, which ranks 49th in the nation in terms of the number of homes heated by natural gas, according to the U.S. Department of Energy. Only 4% of Maine homes are heated with natural gas compared to 51% U.S.-wide. Most Mainers, some 80%, heat their homes with oil, followed by propane at 5% and electricity at 4%. Various sources quote cost savings of anywhere from 35% to 50% in converting from oil to pipeline natural gas, which for a consumer paying $3,000 to heat his home for a season means up to $1,500 less for fuel. That has some companies and consumers signing up for natural gas as soon as it's available.
"It's like the wild, wild west," says Chris Green, president of heating, ventilation and air conditioning company Mechanical Services Inc. of Portland, which expects to add a couple million dollars this year to its fuel-conversion business, comprising 10% of the company's revenue. Gas conversions are boosting business quickly for HVAC companies like Green's: he's also looking to hire four to six more workers.
"We have a lot of inquiries for quotes for gas conversions every day. It's like the gold rush right now. Everyone is getting in on it," he says, adding he expects the trend to continue for several more years.
While natural gas promises cheaper fuel bills, deliveries uninterrupted by snow piles and a cleaner alternative to oil, it also can dramatically impact the bottom line of both homes and businesses. When Katahdin Paper Co. closed its Millinocket mill in 2008, it cited record oil prices that had doubled the mill's fuel costs. Drechsel says his company's use of natural gas has made the biggest favorable financial impact on his mill over the past five years. Energy is the biggest factor for the mill, for both heating and electricity. Right now, the mill is only using natural gas for heating and not to generate electricity. The mill first converted to liquefied natural gas, then to compressed natural gas and now is moving to pipeline natural gas.
"It secures longer-term viability for any industry if you can lower your cost of energy by one-third," he says. "It makes you more competitive on the world market."
He's not alone in that sentiment. Two other Maine paper mills, Sappi Fine Paper's Somerset mill in Skowhegan and Huhtamaki Inc. in Fairfield and Waterville, have also signed on as anchor customers for the Kennebec Valley natural gas pipeline now under construction by Augusta-based Summit Natural Gas of Maine, which expects to complete its $350 million, 68-mile main pipeline from Augusta to Madison by mid-October. Summit and Maine Natural Gas of Brunswick are competing head-on to supply gas to state and municipal buildings and to homeowners in the Kennebec Valley and elsewhere, with the aim of reaching both commercial and residential customers. Maine has no territories for the suppliers, so they compete in the same markets. The other two approved natural gas distributors in Maine, Unitil and Bangor Gas Co., also are scooping up customers in Maine's major cities. There's even anecdotal evidence from real estate agents that buyers are expressing preferences for homes with natural gas.