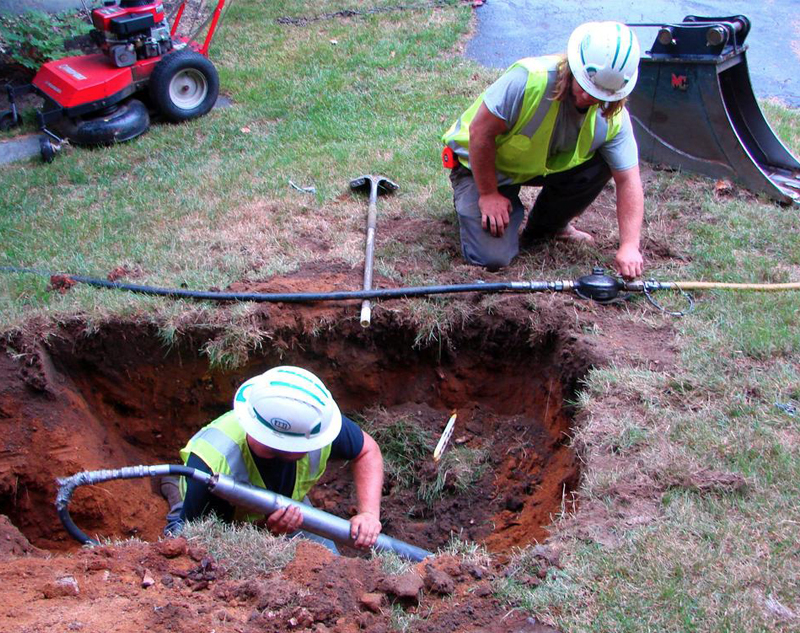 Summit Natural Gas president promises better service, leaner operations
August 11th, 2016
YARMOUTH — Two years after launching an ambitious project to expand natural gas service to Falmouth, Cumberland and Yarmouth – and with growing pains along the way – Summit Natural Gas of Maine is tightening its operations and promising to provide better customer service, the company president said last week.
Kurt Adams became president and chief executive officer of Summit last October, running operations in Maine, Missouri and Colorado. The Yarmouth resident had served as chief development officer of both SunEdison and First Wind in Portland, and as chairman of the Maine Public Utilities Commission from 2005-2008.
One of the first things Adams did at Summit was eliminate the position of president in each state, he said in an interview at his home July 28.
"Summit is a really great gas company, but when we created the business here, we didn't bring over all of those skills," Adams said. "When you create a state president, they build their own team, they build their own culture, and it was really like a start-up. So part of what I needed to do right out of the gate was make sure the very best of Summit was equally distributed across the company."
As a longtime Mainer, being able to lead the company from his home state "gives me a different vantage point of what Summit can bring to the table, and that's making some positive differences," Adams said.
Growing pains
The early days of Summit's experience in Portland's northern suburbs have been a learning experience.
Ground was broken in May 2014 at the Cumberland Fairgrounds, so the company could tap into a natural gas pipeline already running through the western part of Cumberland.
The project represented an investment of approximately $42 million in the three towns, was expected to create about 200 jobs, and expected to attract about 8,000 residential, industrial and commercial customers over five years, Summit said at the time.
But before 2014 was through, there were concerns about installations being behind schedule in designated neighborhoods. Those concerns were further heightened when a Howland contractor handling installations in the three towns went out of business, at first leaving customers who had paid deposits in the lurch when the work remained incomplete. Summit pledged to make reimbursements.
Then the company announced last August that slow demand would require it to reduce the scope of the project by 15 percent in 2015. Summit also announced plans in January to cut 21 jobs in Maine.
"In Maine, where we really stumbled was on managing construction and managing growth," Adams said. "We had great support from the towns, but we just weren't able to deliver on our promises to get to streets when we were supposed to get there, and to live up to our commitments."
As a result, Adams said, he wanted to bring the skills to Maine that allowed those goals to be accomplished in Colorado and Missouri.
"And in the past year it's going pretty well," he said. "The 2015 construction cycle was by and large the best one we've ever had, and not only in Maine, (but) anywhere."
Things continue to run well this year, Adams said, with the company installing 90,000 feet, or 17 miles, of piping.
"Today, we are in front of 10,000 homes and businesses" in Maine, he added.
Summit now also works with a set of contractors the company knows and trusts, and follows up with inspections of all the work done, Adams said.
"That quality control piece is something we've really grown as part of our Maine operation," he said. "… There'll always be people that are inconvenienced when you're building infrastructure; our job is to minimize the inconvenience."
Leaner, more responsive
Explaining the reduction in staff, Adams said, "When you build out the massive, (more than) $300 million backbone, you need to scale to a certain size to do that. And after that is done, you don't need the infrastructure to continue putting steel main in the ground."
Adams also the impact of economic conditions. "We just have to manage our workforce to match the economy," he said. "The economic opportunity is pretty well-matched for how big we are right now."
Summit's new projects include installing natural gas at Tyler Technologies in Yarmouth, as well as a housing development on Casco Bay Drive in Cumberland.
"What we're able to do at the current scale is focus on these individual customers, and figure out ways to serve them and be creative about it," Adams said. "When you're really big and growing really fast, it's hard to slow down and really listen to the customers. And we're scaled right now at a size where we're able to do that, and we're able to be more responsive."
The competition
A benefit of natural gas promoted by Summit when the three towns were courting each other in 2013-2014 was the cheaper cost compared to home-heating oil. A drop in the price of oil constrained how quickly Summit would grow, Adams said, but it has not reduced the demand for gas, particularly in the three towns.
"Gas is competitive from a price perspective over its life cycle; that's very clear," he said, acknowledging there is an up-front cost to convert, and a delay in when the investment will pay off.
"That payback date is pushed out farther with the price of oil having fallen," Adams said. "But the other attributes of gas – the cleanliness of it, the environmental sensitivity of it, compared to oil and propane – is still driving a lot of demand. So for some customers, the economics are still appealing; for others customers, the other … attributes are more appealing."
Adams said Summit consistently receives calls from residents who want natural gas brought to their street, Adams said – "it's just going to take us a while to get there."
About 20-30 percent of customers on a given street must sign up for the utility to make expansion in the area viable, he said.
As far as expanding to other towns, Adams said, "we see a lot of opportunity for gas conversions. Our focus right now is serving the customers that are on our pipe. The commitment that … Cumberland, Falmouth and Yarmouth have made to us – and that we feel like we need to honor – that's first and foremost in our minds."
Summit's approach this past year has been to grow in concert with shifts in the economy, Adams said.
"We're going to grow as the market opportunity presents us windows," he said. "And we're going to do less, but we're going to do it much better; that's been our focus."