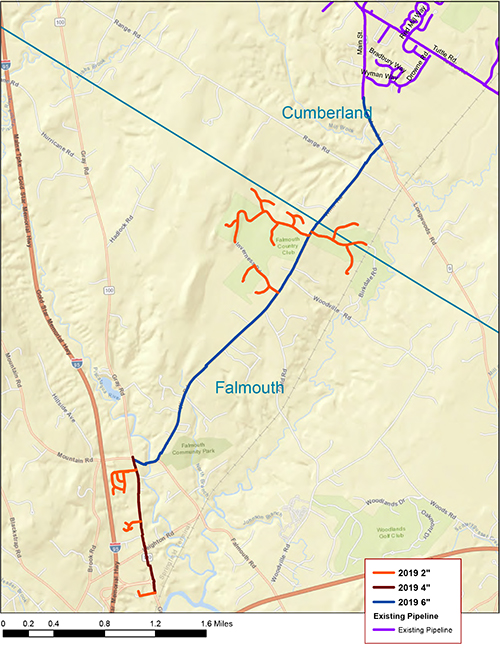 Summit Natural Gas of Maine Announces Expansion to West Falmouth
The $4 million project will bring natural gas to residential and commercial customers in the community
April 16th, 2019
WEST FALMOUTH, ME – Summit Natural Gas of Maine (Summit) plans to break ground on an expansion project to West Falmouth this spring. The project will bring reliable and clean-burning natural gas to residential and commercial customers in the community.
"We are excited to be bringing reliable, safe, and clean-burning natural gas to West Falmouth. With natural gas, you pay only for what you use and, unlike other fuel sources, it's delivered directly to your home or business so it's there when you need it. And you don't have to shovel a path to refill the tank," said Summit's Lead Commercial Sales Representative Skye Austin. "We continually hear from businesses that access to natural gas is one of their key considerations when choosing where to locate. As an affordable energy source, natural gas can help strengthen the local economy, while also reducing emissions by providing a lower emission fuel alternative."
"The expansion of natural gas into West Falmouth will offer many residents and businesses access to alternative energy options," said Nathan Poore, Falmouth Town Manager. "Summit Natural Gas and the Town have been exploring how best to reach West Falmouth for several years. We are excited that expansion into this part of Town is now a reality."
To help lower the cost of converting to natural gas, Summit and the Efficiency Maine Trust presently offer rebates and incentives of up to $3,400 for residential homes and up to $6,650 for commercial buildings.
"I'm excited to see Summit's continued investment in Maine and particularly in Falmouth," said State Senator Cathy Breen (D-Falmouth). "It is great to see homes and businesses in West Falmouth get new access to this energy option, and I look forward to natural gas bringing more economic growth and reduced emissions to our community."
For the project, Summit plans to invest approximately $4 million, which will include laying over 4.5 miles of gas main from Main Street and Winn Road in Cumberland to the business district on Gray Road in Falmouth. Additionally, there are plans for another 4.5 miles of new pipe to serve residential areas off the main line. Since coming to Maine five years ago, the company has invested more than $340 million to build more than 200 miles of distribution pipe throughout the state. Summit provides natural gas to thousands of residents and most of the schools, colleges, hospitals and municipal buildings in its service areas.
Construction will begin this spring as soon as weather and conditions permit.
More information on this project and natural gas is available by visiting SummitNaturalGasMaine.com/West-Falmouth. If you are interested in converting to natural gas, please call Summit at 207-621-8000, option 6.